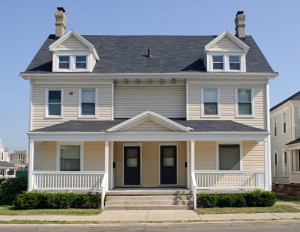 According to Freddie Mac, the Federal Home Loan Mortgage Corporation (FHLMC), multifamily rent growth should level out to its long-term average performance as interest rates increase. That does not mean that investing in a multifamily property is a bad idea, it just means that the supply and demand conditions are varying by location and adjusting to job growth or stagnation. Since most rental housing demand comes from 25- to 34-year-olds, the FHLMC expects the need for rental property to grow by up to 1.6 million as the employment picture improves.
You do not have to be a high-level investor to participate in the expected rental housing increase. Younger investors, especially those in the under 40 range, might consider purchasing a property and renting out rooms, or buying a duplex, living in one side and renting out the other.
While being a landlord has some hazards and pitfalls, having a constant income stream that helps to pay the mortgage (and offers some tax advantages plus, a place to live) might be a great start to your real estate investment future.
We can help you locate potential investment properties (single-family homes or multi-family) that might be math out to be an excellent investment for you. Current vacancy rates in San Diego are under 5%, which means that Landlords are in the 'driver's seat' and can ask for market and above-market rates.
Is a Multi-Family Unit a Good Investment?
Buying a multi-family unit, for example, might take a little more work than a single-family home, but the process will be similar. In fact, regarding duplexes, FHA (the Federal Housing Administration) will loan up to 96.5% of the property's value as long as the owner intends to occupy one of the units for at least a year. The Federal Housing Administration will credit the buyer with as much as 75% of the rental income as part of their qualifying income and will finance as much as $347,000 for a two-unit property in some locations. For more specifics on this, please contact your favorite lender.
Either way, the most obvious advantage of owning and living in a duplex is the mortgage payment via the rental income. In addition, duplexes are more affordable than larger apartment complexes, and often cost the same as (or less than) a single-family home. Or if you have an elderly parent or adult child, you can rent to them so that they retain their valued privacy, but share in the cost of the family property.
On the inverse, if you rent to a stranger, one main disadvantage will be the close proximity to this new 'neighbor'. And if you happen to have a needy tenant (uh-oh), you might find yourself continuously interrupted by a knock on the door. That being said, choosing the right tenant is paramount to having a successful Landlord experience. We are experienced Landlords ourselves, and can help guide the way with any/all of your investment property aspects.
Other Landlord Responsibilities
Another important consideration will be to have enough cash on hand to deal with possible insurance increases, random repairs and the eventual upgrades to your current appliances (and the property itself).
Plus, remember that most states and counties—and some cities—will have specific rules about written lease agreements, basic property upkeep and the specific accounting of tenant funds (in addition to making sure that various ethical standards are being met).
As with any property ownership, there are always increased nuances involved but if you're looking to wear the new Landlord cap (a fedora is so yesterday anyway), we can certainly give you the information you will need to find the best one in the store.